The Titanic Rail Trail and the Wild Atlantic Way
DH 3711910N - 9 Day Tour
We are delighted to offer a nine day (nine nights) tour of Ireland which includes the highlights of Ireland and has the theme of the ill fated Titanic story. We visit Cork and Blarney Castle, and Cobh near Cork City, the ships last port of call. We include Belfast where she was built, we explore Clifden in Connemara, where Jack Phillips, the Titanic's wireless operator worked for Marconi before the fatal voyage. This tour also takes in Ireland's most famous attractions such as The Cliffs of Moher, Blarney Castle, The Ring of Kerry, Bunratty Castle, The Giant's Causeway and Galway Bay on the wild Atlantic Coast. This escorted tour, like all our extended tours, includes all rail and coach travel, quality hotel accommodation, admissions where stated and transfers.
ITINERARY DAY 1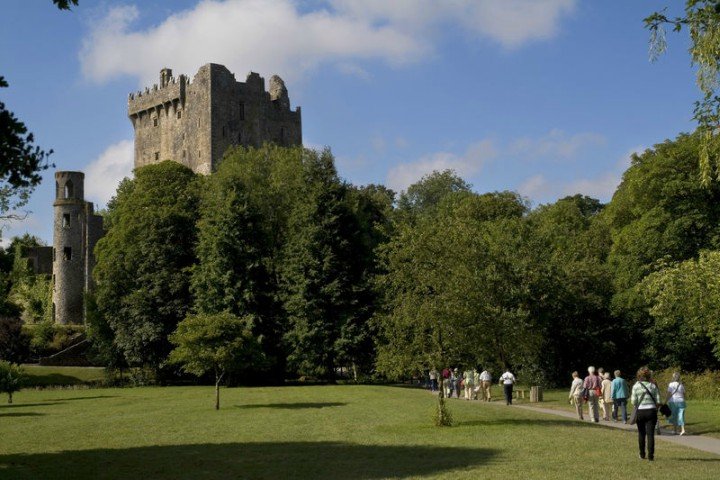 Check in Dublin Heuston Station (Customer Service Desk) for 07.00 departure of Intercity train to Cork (free full Irish Breakfast included Monday to Friday if tour booked directly online at www.railtoursireland. com). We transfer to Blarney Castle, (admission included) kiss the Blarney Stone and thus acquire the gift of eternal eloquence. After time for lunch and shopping we have a short city tour of Cork and we have a scenic journey alongside Cork Harbour to Cobh where the Titanic made its last port of call and where generations of Irish emigrants left for the new worlds. We visit the Cobh Heritage Centre home of the Queenstown Story and The Titanic Story (admission included). We travel by train from Cobh to Killarney where we are transferred to our comfortable 4* Standard Hotel in Kiallarney town centre.
Evening Free to explore the traditional pubs and restaurants and maybe a walk to the famous lakes.

ITINERARY DAY 2

10.00am we embark on the famous Ring of Kerry tour which is a largely coastal drive around the Iveragh Peninsula, on one side of which is Dingle Bay. Lots of stunning mountain and coastal scenery. We pass through Sneem Village and see The Skellig Rocks, The Macgillicuddy Reeks including Irelands highest mountain, Carrantuohill.
Our route includes Molls Gapv and Ladies View over the world famous Lakes of Killarney.
We return to our comfortable Bed and Breakfast accommodation with ensuite facilities free upgrade to four star standard hotel if you book directly online at www.RailtoursIreland.com in the centre of Killarney, and enjoy an evening at your leisure.


ITINERARY DAY 3

07.30 transfer by road from Killarney to Limerick passing through the lovely village of Adare. In Limerick we have a short tour of the treaty city and setting for the movie "Angela's Ashes". We head north to Bunratty Castle and Folk Village, we include admission and a guided tour of this wonderful medieval castle and the accurate recreation of Irish Country life in the adjacent Folk Park. Our next stop is at a traditional Irish pub, O'Connor's of Doolin, with its reasonable priced seafood and pub grub - try the chowder (lunch not included). It is a short drive from here to the majestic Cliffs of Moher, (admission incl) from here we enter the unique lunar landscape of the Burren rounding Black Head before heading along the shores of Galway Bay/ (our route is regarded as one of Europes top ten coastal drives).
Overnight in Galway City in three/four star hotel.
Evening Free.

ITINERARY DAY 4


10.30am transfer to Connemara Airport for flight and tour of Inismór, the largest of the Aran Islands, where we join our tour of the Island with time for lunch at Kilronan before our visit to the magnificent ancient fort Dún Aengus/ with its sheer cliffs and dramatic seascapes.
Return flight and transfer back to Galway City with time for exploring and shopping.
Evening Free.

ITINERARY DAY 5


10.00am depart Galway for tour of Connemara including Kylemore Abbey and its wonderful Victorian gardens (admission to Abbey & garden included). On our journey through Connemara we pass the house where Bruce Ismay director of the White Star Line retired to in disgrace after surviving the Titanic sinking until his death in 1932. During this tour we see many Connemara ponies in their natural habitat. Transfer to Clifden, the capital of Connemara and The Abbeyglen Castle Hotel, Station House Hotel or Foyles Hotel in the center of the town. Evening Free to explore this beautiful little town on the Atlantic Coast with wonderful pubs and seafood restaurants.
Dinner and overnight in Clifden.

ITINERARY DAY 6
10.00am depart Clifden for morning tour of the Sky Road, Coral Beach - spectacular coastal scenery. We visit Derrygimlagh Bog, the site of the Marconi transmitting station where Jack Phillips worked as a wireless operator. He left in 1911 and joined the Titanic, and went down with the ship as he sent the final distress messages. This also is the site where Alcock and Brown landed in 1919 after the first ever non-stop transatlantic flight. We return to Kylemore for our lunch stop (not included).
We continue our tour through Connemara enjoying spectacular mountain and lake scenery on our way back to Galway where we join our train to Dublin arriving at 21.45.
Overnight Dublin city centre hotel.
ITINERARY DAY 7

This is your leisure day in Dublin during which you can use your Hop On- Hop Off Dublin city sight seeing tour ticket (included in your pack).
This Hop On-Hop Off tour will take you to Dublin's most famous attractions including The Guinness Brewery, Trinity College (see the book of Kells), Kilmainham Jail, and Christchurch and St. Patrick's Cathedrals, plus lots lots more.
Overnight Dublin city centre hotel.
ITINERARY DAY 8


Check in Dublin Connolly station (Customer Service Desk) for 07.35 departure of Enterprise train to Belfast. On arrival, we join our coach and head north along the famous Antrim coast road, crossing the lovely Glens of Antrim en route to Ballycastle and Carrick-a-rede rope bridge
Glimpse the Scottish coast on a clear day. We continue to the stunning Giant's Causeway next (admission included), then a photo stop at Dunluce Castle.
We return to Belfast and your four star hotel in the city centre for overnight.
ITINERARY DAY 9


Belfast, Titanic visitor centre

After enjoying a Full Irish Breakfast (the famous Ulster Fry) at your leisure, you will join the Belfast Hop-On-Hop-Off tour which not only explores the city centre but also the Titanic Quarter (see the original dock where the doomed liner was built). We also visit the new Titanic Visitor Centre (admission included) and you can see the last surviving White Star Line Ship "The Nomadic". You will also see the murals of the Falls and Shankill Roads with plenty of free time for shopping and exploring.
You will join the Railtours Ireland group returning to Dublin at 20.10 from Belfast Central Station arriving Dublin Connolly at 22.20 and overnight in Dublin City Centre Hotel


Departs Monday / Wednesday / Thursday and Saturday , February to October
*Prices are per adult sharing
Single Room Supplement applies
Sterling (British £) Currency is required in Northern Ireland


Adult (Sharing):€1,389.00 pps

Student (Sharing): €1,250.00




Adult (Sharing):€1,589.00 in June, July and August




IMPORTANT NOTICE
On any tour to Belfast and The Giant's Causeway please remember you are leaving the Republic of Ireland and entering the United Kingdom of Great Britain and Northern Ireland, please ensure that your Visa requirements are in order and it is essential that you carry your passport.